Celebrated Japanese artist Yayoi Kusama is considering legal action against the organisers of several exhibitions in China made up entirely of fake works credited to her.
Counterfeit works by Kusama and her fellow contemporary Japanese artist Takashi Murakami have been shown in at least six Chinese cities since the spring, according the artists' lawyers.
Most of the exhibitions were free of charge but a joint Kusama-Murakami event in Changsha, Hunan province, charged a US$10 (£7.70) admission fee, Japanese media said.
Earlier this month, organisers shut down an exhibition in Shanghai after receiving a written warning from Kusama's legal team, but the show in Changsha is still open to the public.
Kusama's lawyers are trying to identify the organisers of the other fraudulent exhibitions and could pursue both civil and criminal action for copyright infringement and violations of Chinese laws, Japan's public broadcaster NHK said.
Murakami's lawyer, Hiroshi Kamiyama, told the Nikkei Asian Review he was considering taking similar action, describing the fake exhibitions as "extremely malicious".
The Yayoi Kusama Foundation said all of the Chinese exhibitions featured forgeries and had been held without the artist's permission.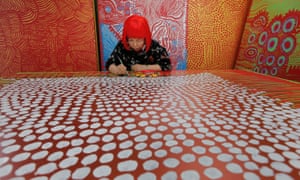 "Such actions are a serious infringement of the artist's copyright and international fame and brand and harm the interests of the foundation," it said in a statement.
"These dishonest acts are a violation of public morals and decency of a notably malicious nature, and are a contemptible transgression of the originality and copyrights of all artists. We therefore strongly condemn these actions."
The exhibitions include forgeries of the trademark polka-dot installations that have brought the 89-year-old Kusama international acclaim.
Her art has appeared at the Tate Modern, the Pompidou in Paris and the Hirshhorn Museum and Sculpture Garden in Washington, and last year saw the opening of a museum in Tokyo devoted to her life and work.
Her career spans six decades, but it is only in the past 20 years that Kusama's abstract impressionism and pop art have attracted widespread interest.
While Kusama's style has divided critics, she was named the world's favourite artist in 2014, the same year one of her paintings sold for $7.1m.
Chinese firms have been accused of producing fake Japanese manga, anime films and popular characters, but this is thought to be the first case involving art exhibitions.
In 2016, a Chinese toymaker was fined for producing unauthorised products modelled on Kumamon, the much loved – and highly lucrative – official mascot of Kumamoto prefecture in south-west Japan.