When Zhou Long first arrived in New York in 1985, the then 32-year-old Chinese composer was so "culturally shocked" that he couldn't write a single note for the next two years.
Again in 2010, Zhou, by then a well-established composer, was stricken by the same feeling that he couldn't compose again. At the time, he was exhausted from working on his first opera "Madame White Snake," which earned him the prestigious Pulitzer Prize for Music in 2011.
The opera was inspired by the popular Chinese folk story about a snake lady falling in love with a human. Pulitzer officials described Zhou's piece as "a deeply expressive opera that draws on a Chinese folk tale to blend the musical traditions of the East and the West."
The opera won standing ovations when it premiered in Boston in 2010, but back home in Beijing, it elicited only polite applause.
"I sneaked outside during intermission," Zhou recalled of the Beijing production. "And there were all these cab drivers outside. They asked me: 'Do you know what the heck is being performed in there?'"
The minimalism of the work tended to put Chinese audiences off. They weren't ready to see their familiar white snake lady wearing a T-shirt and singing in English.
"When you tell a Chinese story to a foreign audience, and then turn it back to a Chinese audience, it's natural to have that kind of double cultural shock," Zhou said.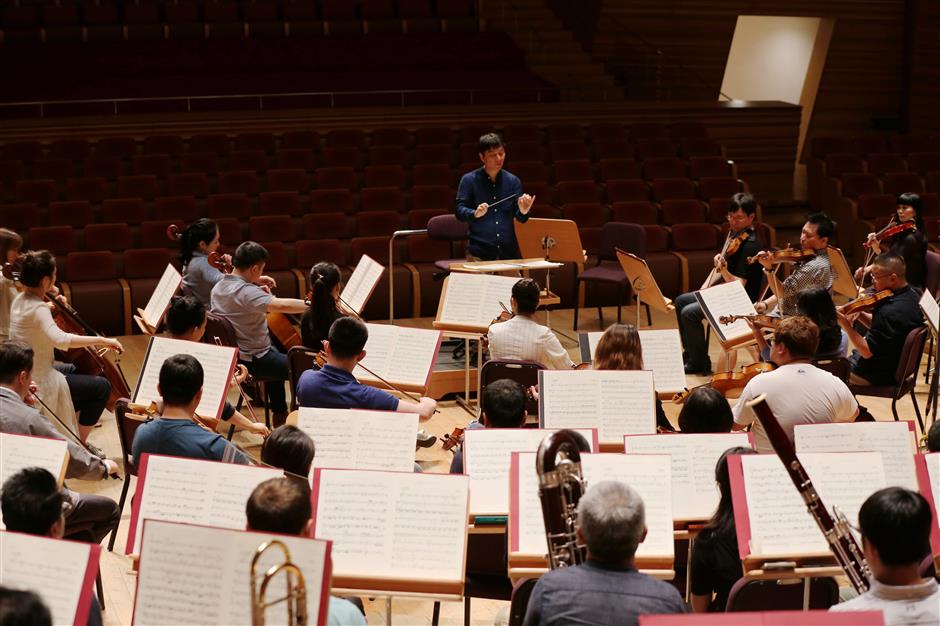 Ti Gong
His latest piece, "Classic of Mountains and Seas," was commissioned by the Shanghai Symphony Orchestra and performed here recently. The work was inspired by an ancient book of the same name, which may have existed as early as the 4th century BC.
"I didn't follow any of the stories or deities in the text, which all have been adapted in many forms before," he explained.
"Instead, I divided the chapters by directions — north, west, east, south and center — and drew inspiration from the vast landscape, various customs and rich music of China."
The ancient text is not only a collection of household myths, but also a compilation of ancient mythic geography, the deities and mythic animals.
Zhou uses different sections of the orchestra to echo the folk sounds of different parts of China. It is a skill that he has been developing since he went to study in the US.
Born into an artistic family in Beijing 65 years ago, Zhou studied piano from an early age. However, that training ceased during the "cultural revolution" (1966-76), when he was sent to the countryside like thousands of other Chinese to work in backward rural areas. He was assigned to drive a tractor on a farm in the windswept, desolate hinterland.
Zhou was among the 100 students chosen from 18,000 applicants to study at China's Central Conservatory of Music when it reopened in 1977 after the end of the "cultural revolution."
Upon graduation in 1983, he took up a post as composer-in-residence with the National Broadcasting Symphony Orchestra of China, but left in 1985 to study under a fellowship at Columbia University in New York.
"When I first went to the US, I was exposed to all kinds of music that was completely different from what I had learned and heard back in China," recalled Zhou.
"Jazz and electronic music were very popular at the time," he said. "Some Chinese musicians who went to the US around the same time were fascinated and blended in right away. I couldn't. My entire musical world collapsed. I couldn't listen to my previous works. They sounded so silly and outdated. I didn't know how to compose anymore."
In New York, Zhang found himself in a box, "confined both by what I had learned and where I had come from culturally and musically."
Two years later, he wrote an electronic piece for a musician friend, and started experimenting with atonal music, which won him awards and helped restore his confidence.
"I wanted to do something completely different and out of my previous box," he said. "By doing that, I finally made peace with myself."
He said being a Chinese-American composer has certain advantages and contradictions.
"When Western orchestras or musicians come to me, they don't expect me to write like Beethoven," he said. "They want me to add Chinese elements, like a few passages for the pipa. When the media write about me, they call me a Chinese composer, even though I have been an American citizen for years."
When his "Poems from Tang" was performed using all Western instruments, many in the audience insisted there must have been some Chinese instruments used and asked him which ones.
"It's not good or bad," Zhou said. "It's a matter of fact that I'm culturally influenced by both. Composers of other ethnicities also add folk instruments and sounds to their compositions. It is really common to see ethnic musical instruments added to a symphony orchestra today."
He added: "In fact, the structure of the symphony orchestra has been gradually expanded. Some Asian drums are already part of the percussion section."
The Washington Post described him as "a gifted musical colorist with deep roots in the natural world."
Zhou has worked on many pieces in the East-meets-West sphere. Rather than blending the two sides in a balanced way, he prefers to take a more experimental approach.
"I don't like repeating what has been done, by me or by others," Zhou said.
"I'd rather take it to the extreme. The end result can be neither Western nor Chinese, neither contemporary nor classic, but something completely new or even strange. I would prefer that."