It is pertinent to first establish that sculpture, in our contemporary landscape, manifests across mediums. Sculptors no longer merely fire clay or cast bronze but encompass themes riddled through society and notions of individual contextual validities. Often times in contemporary sculpture, this produces installations, site-specific, and experiential works that even go as far as to delineate socio-political and environmental climates.
It is rare that contemporary sculptors with their three-dimensional products restrict themselves to a singular material. They are almost always multi-hyphenated visual artists, they are acutely aware of the space around their work that occupies, and they seek to ensure that their works are far more than their physical existence.
The Artling Artzine brings you our top Asian sculptors, determined by those who actively push the medium of sculpture through their innovations. Their works reside within the canon of contemporary sculpture and mold the future of visual art by continuing to break the boundaries in which sculpture is perceived.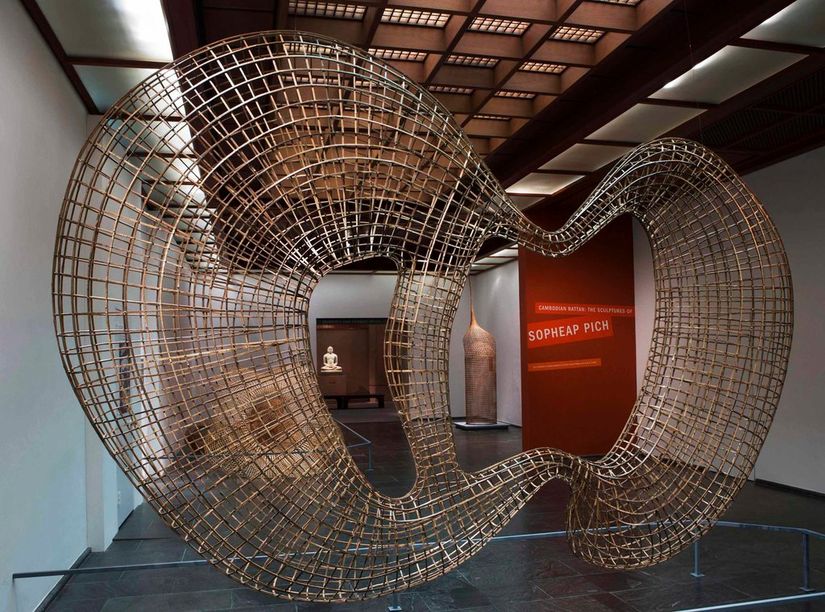 Regarded as one of Cambodia's more prominent sculptors, Pich makes this list due to the scale of his installations. His 2013 solo exhibition at the Metropolitan Museum of Modern Art, New York, was entitled 'Cambodian Rattan: The Sculptures of Sopheap Pich', and was the first solo show given to a contemporary Southeast Asian artist. This exhibition included large biomorphic sculptures made with rattan, a medium that Pich frequents due to his Cambodian heritage. He additionally uses bamboo, burlap, beeswax, and pigments sourced from his homeland. Pich created a new body of work on paper for the 2017 Venice Biennale alongside a flop-standing sculpture, recording the passage of time through the use of nature.
Chiharu Shiota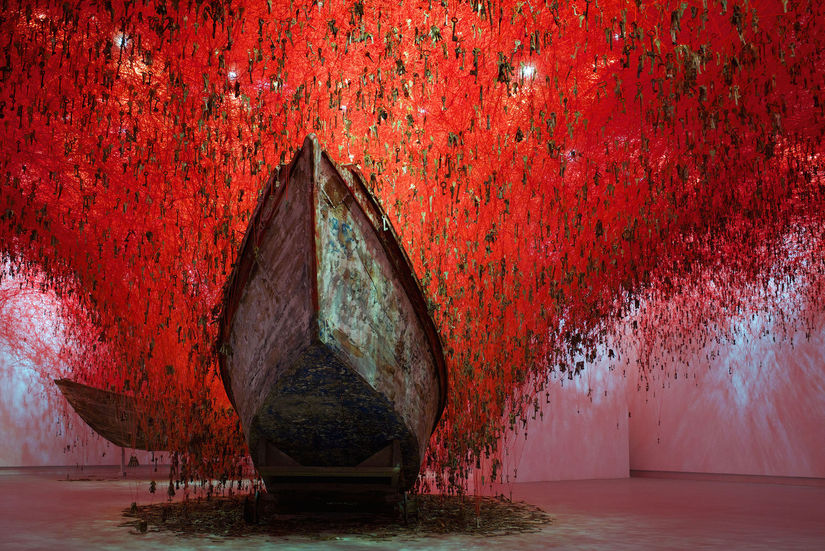 Chiharu is a Japanese artist known for her installations that evoke the intangible, making memories, anxiety dreams silence all jarringly accessible to her viewers. She also exhibited at the Japanese Pavillion in the 56th Venice Biennale. Born in Osaka, she now resides in Berlin and was once even a student of Marina Abramovic. Her works are visually arresting, with large exhibition rooms spanning webs of thread and hoses. She further connects a sense of nostalgia in viewers to her use of everyday objects such as keys, windows, and suitcases, examining life's necessary interrogations.
Ai Weiwei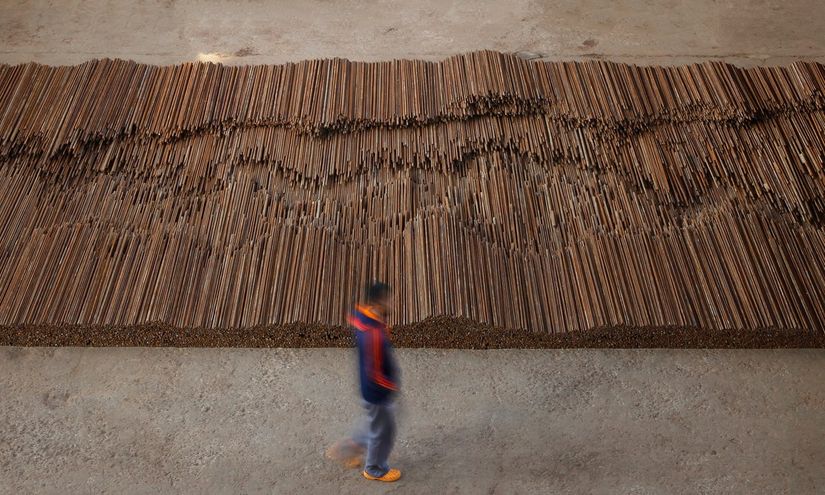 A household name in contemporary art, Ai's oeuvre spans a multiplicity of mediums. Themes of his sculptures have been derived from the Chinese earthquake in 2008, the plight of the refugee crisis, and even from critiques on Chinese society and the readymades where he re-cast Han Dynasty ceramics with Coca Cola logos on them.
His most recent works are currently on show at the Marciano Art Foundation in Los Angeles. Entitled 'Life Cycle', it includes large installations crafted from bamboo and silk motivated by mythic geography. It continues to drive Ai's constant engagement with politics and social justice.
Choi Jeong Hwa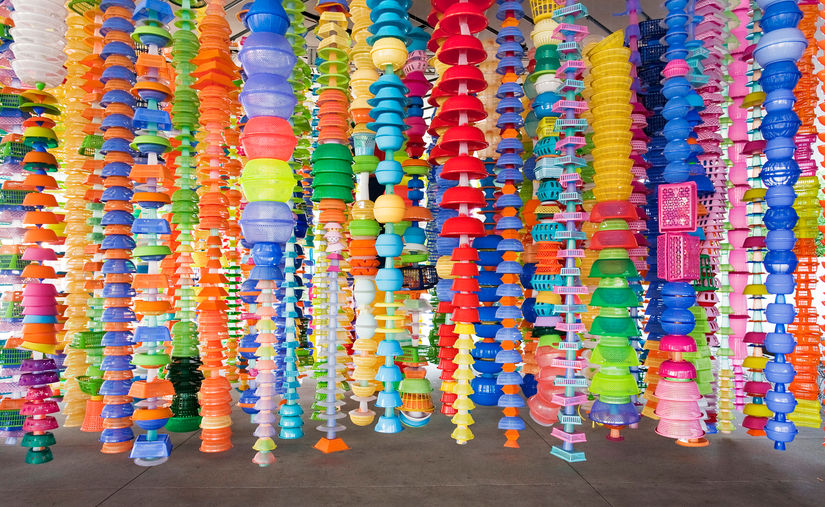 Choi amalgamates artistry, architecture, and design through his sculptures. Inspired by urban environments, he enjoys 'deconstructing' institutions by undermining the hierarchies of museums, and does this by installing his works outside them rather than within. Using 2 million pieces of trash, he adorned Seoul's Olympic Stadium with garlands, transforming it into a shimmering spectacle. His presentation at the inaugural Bangkok Art Biennale was inspired by everyday objects and highlighted the paradoxical work of superficial happiness we live in. He was also the Korean representative in 'Secret Beyond the Door'(2005) at the Venice Biennale.
Lee Bul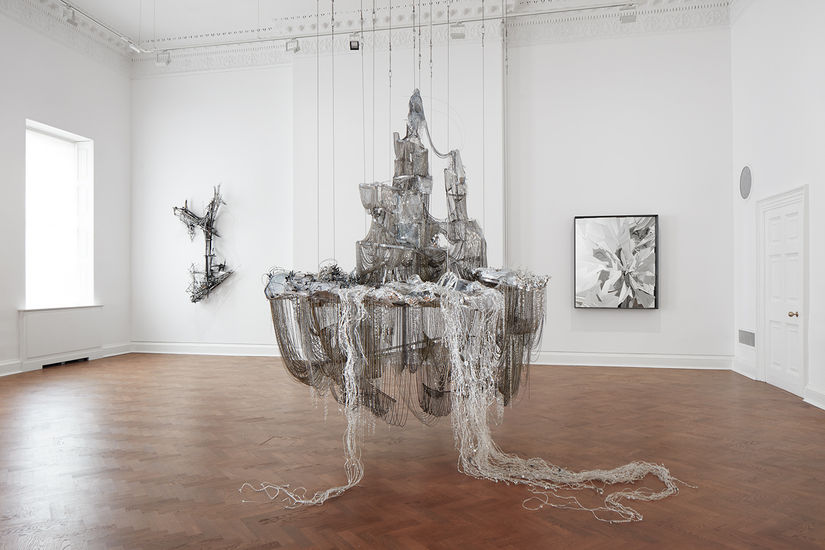 Aside from sculpture, Lee Bul's practice spans a diverse range of media including drawing, painting, performance, installation, and video. However, it is her sculptures and installations that are most compelling. She examines shared human consciousness and historicities that pertain to folklore and myths and explores utopianism and technology, often resulting in exposing the dystopian tangents of the world we live in. Themes of immortality arise as she highlights our fascination with technology and the human body.
Lee Bul received the Noon Award at the 10th Gwangju Biennale – given to the artist who produces the most experimental work whilst embodying the biennale's theme. She also received an honorable mention at the 48th Venice Biennale for her contribution to the Korean Pavillion.
Ju Ming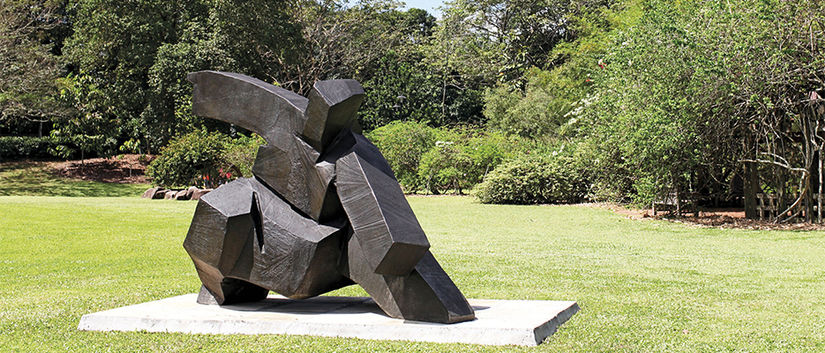 Coming to fame in his homeland Taiwan in the 1970s and then in New York in the 1980s, Ju Ming is a renowned master sculptor best known for his bronze and steel sculptures. His works are often spotted in public areas. Ju Ming even has an outdoor museum in Taiwan that celebrates his works, works from artists that have inspired him, and works of those that he has inspired. Occupying 11 hectares, this was originally a site for storing his large scale works. Ju Ming eventually decided that it would be ideal as an art park and thus opened it up to the public, further allowing for the cultivation of creativity. Ju Ming has had over 45 international solo and group exhibitions from 1976 to present.
Do Ho Suh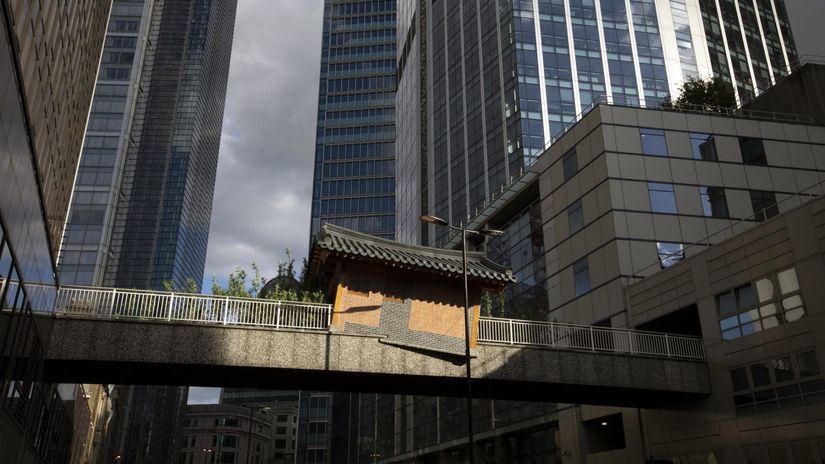 A famous contemporary sculptor and installation artist from Seoul, Do Ho Suh's oeuvre is surrounded by architecture. In one of his works, he outlines his time in New York by creating a life-size structure of his apartment there, further questioning notions of scale with regards to space. More recently, his works seek to intervene in public spaces, even suspending a traditional Korean house – a replica of his childhood home and its surrounding bamboo garden – on a London footbridge. Placed amidst skyscrapers in the business district of the city of London, this work looks overwhelmingly out of place. It reveals and reflects the artist's own experience of moving, of cross-cultural occurrences, and investigates personal immigrant understandings.
Latiff Mohidin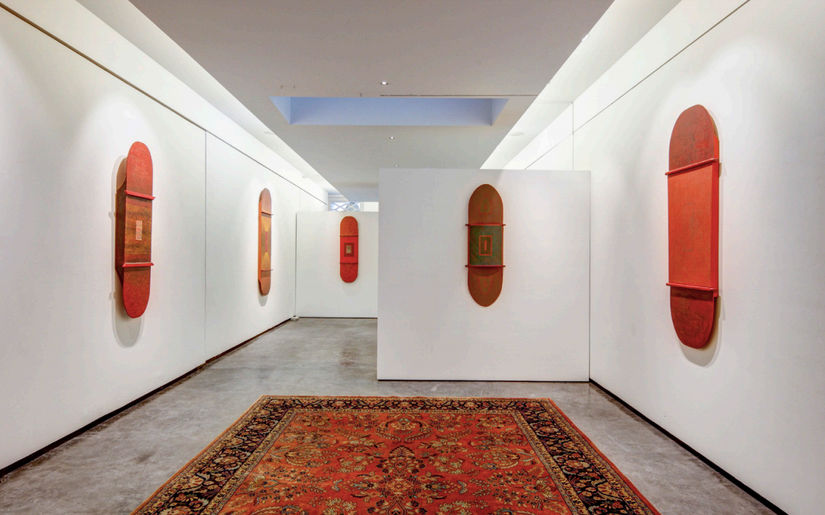 Spending his early years in Singapore, Mohidin is a Malaysian artist who was dubbed 'boy' wonder' after having his first solo exhibition at the age of ten. He is also known for his painting and poetry. Latiff marked a career milestone with his monumental exhibition, 'Six Decades of Latiff Mohidin: A Retrospective', organized by the National Art Gallery in Kuala Lumpur. The exhibition showcased 344 artworks that spanned 60 years of his creative output. His recent 2018 solo exhibition at the Centre Pompidou in Paris presented his formative years as an artist when he traveled through Europe and Southeast Asia. It included a series of his works, 'Pago-Pago', through which he invented a way of thinking and working that complexified Western modernism.
Takashi Murakami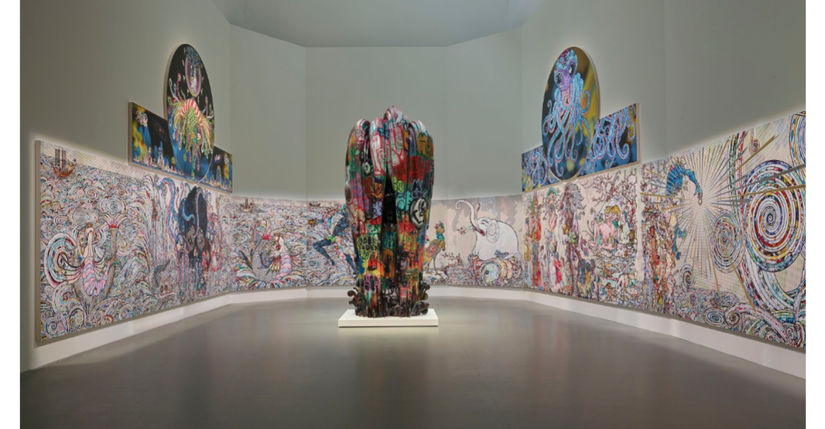 A stranger to none in the world of Asian Pop Art, Murakami is a Japanese contemporary artist whose works spans across an array of mediums, consistently synthesizing fine art and popular culture. Whilst he is well known for his 'superflat' theory, he additionally renders adorable yet gory life-size sculptures of anime figurines that exist as subjects in the narratives of his works. He has collaborated with personalities across all genres of art and has even unveiled a sculpture with Pharrell Williams at the art fair Art Basel. Murakami's grotesque and satirical sculptures have sold for millions, with a $15.2 million record at auction house Sotheby's.
Haegue Yang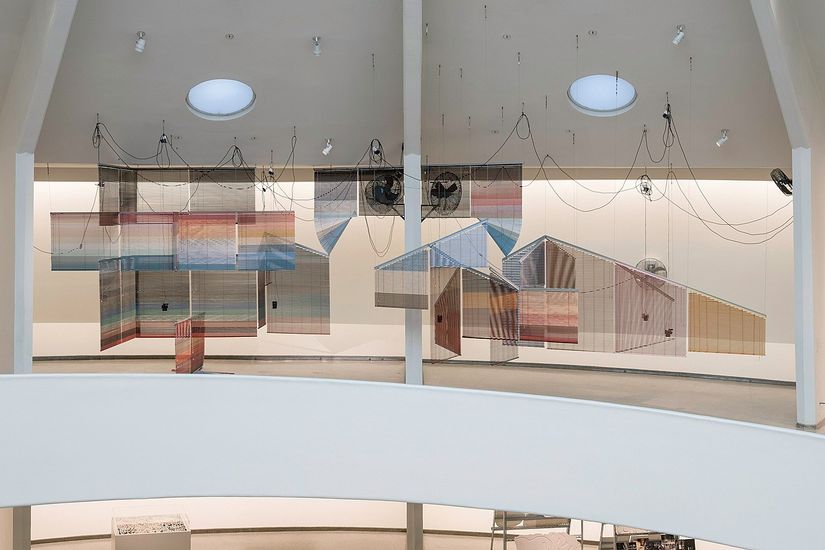 A South Korean artist, Yang's body of work span across mediums, with her sculptural work comprising of quotidian and domestic found objects. She goes the step further to create multi-sensory environments with coherence to her sculptural works. Her debut at the Sao Paulo Biennale featured 'Series of Vulnerable Arrangements – Blind Room', where performers interacted with her sculptures in reference to a choreography piece by Oskar Schlemmer. During her residency in Glasgow, she produced large macramé sculptures accompanied by the soundtrack she was listening to whilst she constructed these works. Her works are in the collection of notable institutions such as the Solomon R. Guggenheim Museum
Zheng Lu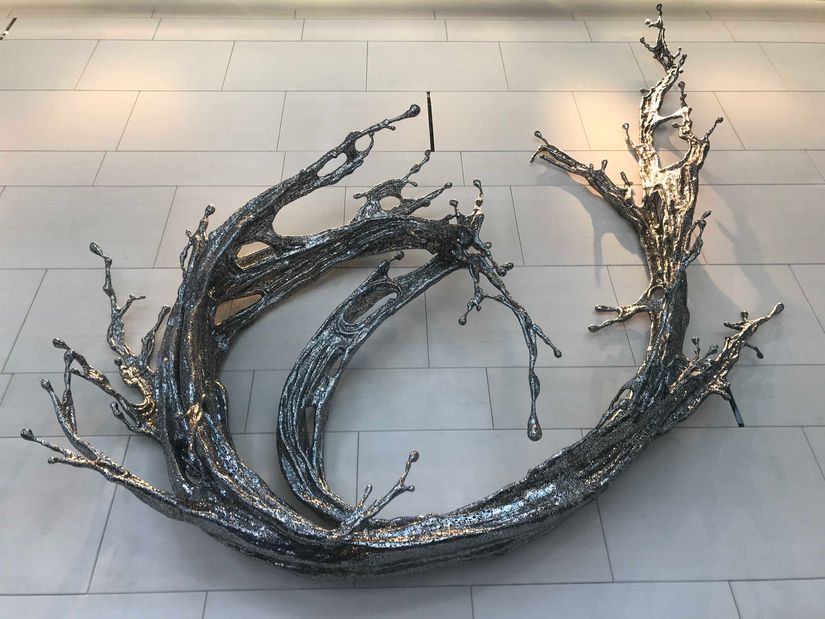 Using thousands of Chinese characters with literary and historical significance, Zheng Lu creates his stainless steel sculptures. Hailing from Inner Mongolia and now based in Beijing, he studied at the prestigious Central Academy of Fine Arts, whilst winning the LVMH Prize over the course of his education. Producing not only sculpture but also installations with steel structures as his dominant medium, his works take on an amorphous shape that defies gravity and glints dramatically through the space it consumes.
Yayoi Kusama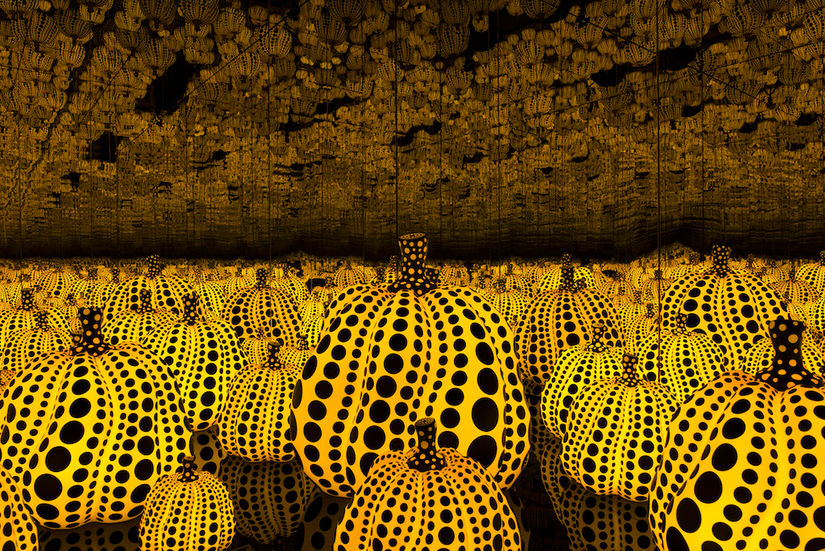 Kusama actively works through mediums of painting, performance, film, fashion, poetry, fiction outside of sculpture and installation. Acknowledged as one of the most important living Japanese artists, her works are in the collections of the world's most notable institutions and private collections. These include the Museum of Modern Art, New York; the National Museum of Modern Art, Tokyo; Los Angeles County Museum of Art, Los Angeles; and the Tate Modern, London. he became the most expensive living female artist at auction when one of her pieces from the signature 'Infinity Nets' series sold for $7.1 million at Christie's in 2014.
Liu Jianhua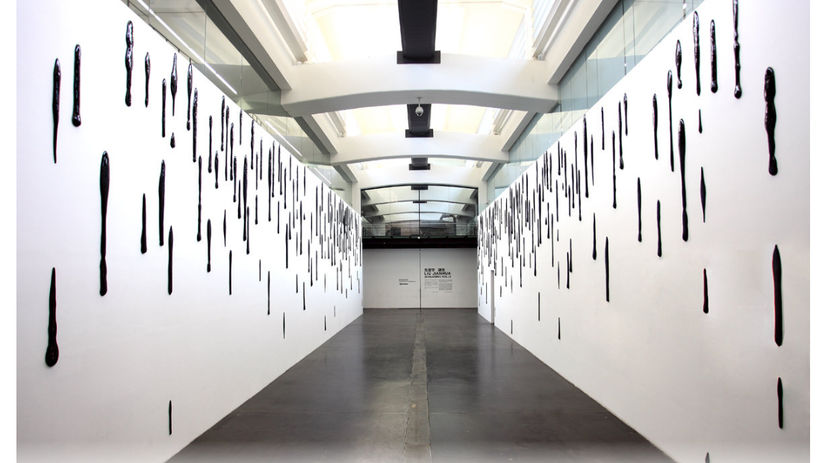 One of the best known sculptural and installation artists of China, Liu works predominantly with porcelain and mixed media. He lived and trained in Jingdezhen, known for its porcelain industry, and later showcased his porcelain works at the Chinese Pavilion at the Venice Biennale in 2003. Liu's works often reflect socio-economic changes in China and their repercussions. They can also be found in the collections of the Tate Modern, London; Guggenheim Museum, New York; Louis Vuitton Foundation, Paris; and the Yuz Art Foundation, Shanghai.
Ronald Ventura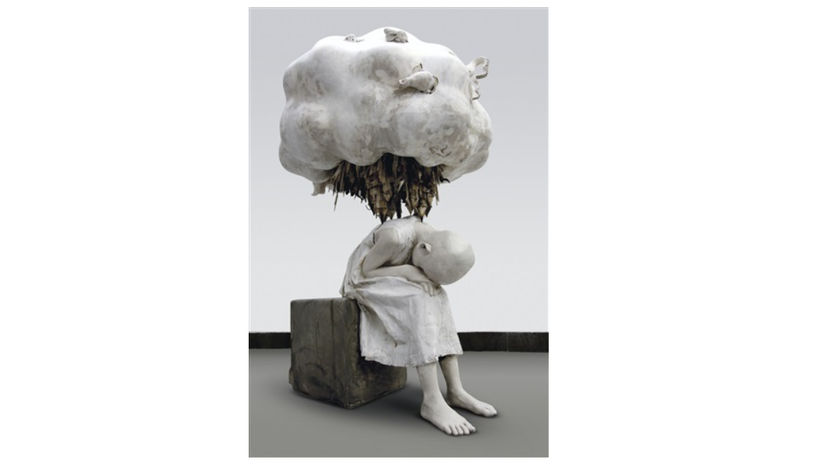 One of the most eminent Filipino artists of our time, Ventura melds realism, caricature, and graffiti to portray scenes of chaos culled from a multitude of contexts. These include science fiction, history, and mythology from both eastern and western culture, and religion. His sculptural revelations and their products are consistently riddled with themes of the dystopian, all the while indisputably finely crafted. Sculptural tendencies can also at times be viewed through his paintings, where he casts unique resin art frames to contain them.
Zhan Wang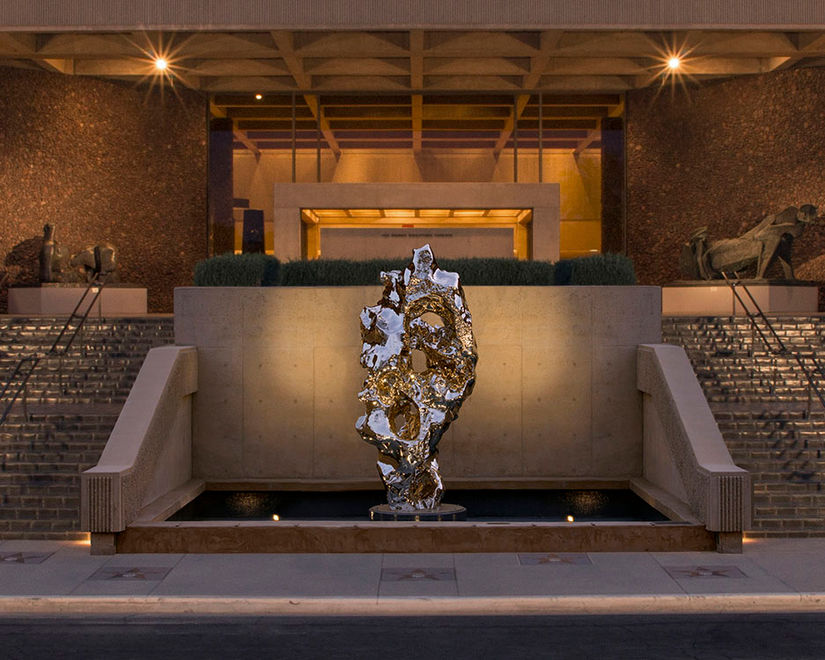 Zhan Wang is renowned for his series entitled 'Artificial Rocks'. Melding traditional "scholar's rocks" with stainless steel, he deconstructed their functions as decorative objects. He is focused on both Chinese traditions and culture, whilst interpreting them through historical, traditional, spiritual and natural effects. He began exploring the reflective nature of the human figure through the effects of light and movement, which led to his 'Metamorph' series. His biggest exhibition took place in 2017 in Shanghai at the Long Museum (West Bund). Zhan Wang's works are in institutions such as the Aliens Center for Contemporary Art, Beijing; Saatchi Gallery, London; Kunst Museum, Bern; and the Metropolitan Museum of Art, New York.