Chinese writer Zhao Lihong has received multiple awards from home and abroad in recognition of his creative achievements.
The Shanghai Writers' Association presented a Medal of Honor to Zhao on Tuesday.
Nicolae Dabija, chairman of the Academy of Sciences of the Republic of Moldova, presented a Member of Honor diploma to Zhao, plus a book of Zhao's poems in Romanian with a postscript by Romanian poet Ion Deaconescu.
On behalf of the European Academy of Sciences, Arts and Letters, Ukrainian poet Dmytro Chystiak gave an Active Member of the European Academy diploma to Zhao "in recognition of his creative achievements and outstanding contributions to the exchange of Chinese and foreign literature."
The European academy, established in 1980, plays a complementary role to UNESCO. It maintains relations and mutual consultation with UNESCO, but also has close relationships with many other international organizations. The academy brings together more than 1,000 scientists, artists and sociologists from around the world, including more than 60 Nobel laureates.
Finally, on behalf of the International Academy of Mihai Eminescu, Deaconescu presented the Golden Medal of Mihai Eminescu to Zhao as "his poetry gives the reader an eternal feeling. His works touch the vastness of the nature and the limitlessness of the human spirit, imagination and creativity."
Named after the most famous and influential Romanian poet, the International Academy of Mihai Eminescu, established in 1990, is the only cultural institution from Romania invited by the Royal Swedish Academy and Nobel Committee to nominate candidates to the Nobel Prize in Literature.
Zhao was born in 1952. The Shanghai poet now serves as vice president of the Shanghai Writers' Association, the publisher of Shanghai Literature and editor-in-chief of Shanghai Poets, a bimonthly journal.
So far, Zhao has published more than 70 works in poetry, prose and journalism. His works have been translated into English, French, Russian, Spanish, Japanese, Korean, Ukrainian, Bulgarian, Macedonian and Serbian. A number of his works have been incorporated into school textbooks.
His latest poetry collection "Pains" was published in English in 2017. In this collection of 51 poems, Zhao pulls ahead as a pre-eminent representative of contemporary Chinese poetry in all of its simplicity, and proves that limitation in itself may be a blessing.
Syrian poet Adonis commented that Zhao's poems are like the surging waves that keep inquiring about the pain of existence in life.
"They combine to form a flock of butterflies, flying from wounds of the past, through thunder and sunshine, the struggles and consequences, to a land of peace and openness," Adonis said.
A number of Chinese and foreign guests who participated in the ceremony recited Zhao's poetry in different languages.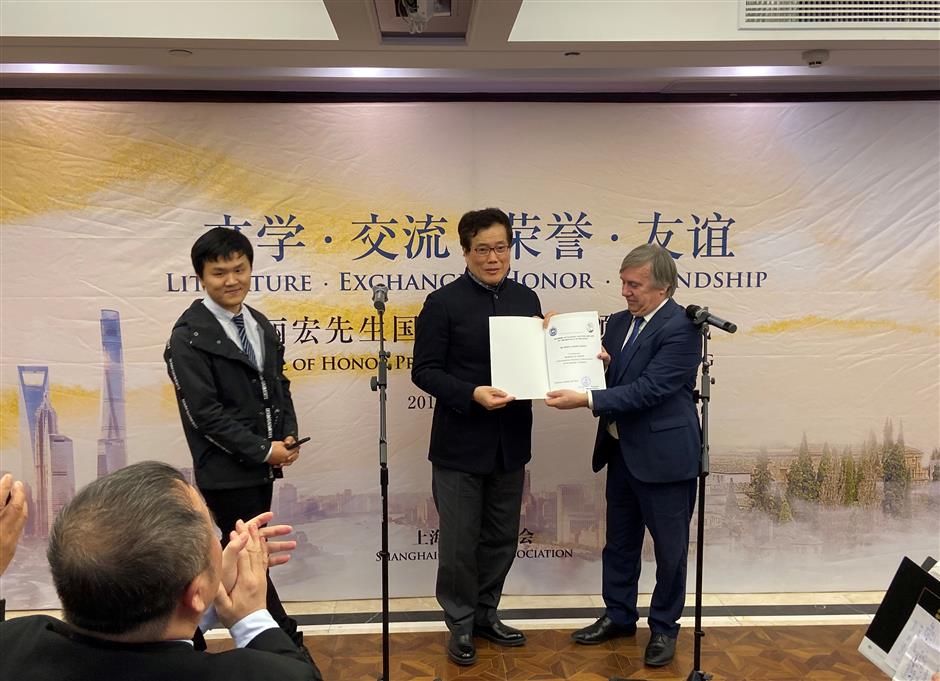 Courtesy of Shanghai Writers' Association
Courtesy of Shanghai Writers' Association
Courtesy of Shanghai Writers' Association