Ai Weiwei's show at the Marciano Art Foundation, the acclaimed Chinese artist's first major institutional exhibition in Los Angeles, opened with an emotional statement from the gallery's co-founder, Maurice Marciano. He told the story of how the exhibition came about, after a chance encounter with top artists' agent Joshua Roth at a friend's wedding in Italy. Roth asked if Marciano liked Ai Weiwei's work, to which Marciano replied, 'Are you kidding?' Then Roth asked if he would like to put on a show with him. 'It would be a dream come true,' replied Marciano. 'Ok, I'll talk to him,' said Roth. At this point in his speech, Marciano pauses for a moment and appears visibly distraught, apologising to the audience for the momentary break. 'Josh Roth did not see this exhibition and will not see this exhibition,' explained Marciano with tears in his eyes. 'Because two weeks ago, he passed away. He was 40 years old.' The agent, who helped artists including Weiwei make deals worthy of Hollywood stars, died on 14 September in Manhattan. The cause of death has not yet been determined. 'So this exhibition is dedicated to Josh.'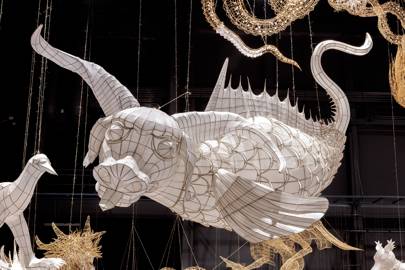 It was a fitting tribute to a leading light in the visual arts scene, who managed to orchestrate not one but three exhibitions for Weiwei in LA – as well as the exhibition at the Marciano, the artist is also showing works at Jeffrey Deitch gallery and UTA Artist Space. Why did he choose to exhibit at more than one space in LA? 'Because when you love a place, you want to make an effort,' Weiwei said with a smile. But the exhibition at the Marciano is the most impressive, featuring a return of his iconic Sunflower Seeds, 49 tons of porcelain sunflower seeds that first showed at the Tate Modern in 2010, and Spouts, a collection of thousands of antique teapot spouts dating as far back as the Song dynasty, as well as a brand new work, Life Cycle.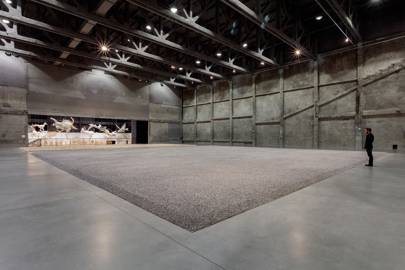 On view for the first time, Life Cycle references the artist's monumental 2017 sculpture Law of the Journey, his response to the global refugee crisis, which used inflatable, black PVC rubber to depict the makeshift boats used to reach Europe. In this version, Weiwei depicts an inflatable boat through the technique used in traditional Chinese kite-making, swapping the PVC for bamboo. The effect is exquisitely delicate but no less powerful; inside, the boat is crammed with towering human figures bearing animal heads of the Chinese zodiac. Above the boat circle figures based on mythic creatures from the Shanhaijing, a classic Chinese text – a two-headed snake uncoiling here, a dragon arcing there – crafted from bamboo and silk.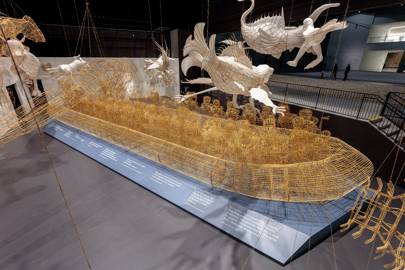 The installation is a continuation of Weiwei's ongoing engagement with politics and social justice and follows the release of his feature-length documentary, Human Flow, which depicts the refugee crisis on film. Writing for The Guardian in February 2018, Weiwei said, 'I was a child refugee. I know how it feels to live in a camp, robbed of my humanity. Refugees must be seen as an essential part of our shared humanity.' Around the boat he has picked out pertinent quotes about humanity and nationality, such as Carlos Fuentes' line, 'Recognise yourself in he and she who are not like you and me.' Beautiful, thought-provoking and packing one hell of an emotional punch, Ai Weiwei has landed in Los Angeles with a bang.