Photographer Zhang Zhaozeng has taken a series of photos showing people's lives around 40 years ago in Beijing. Born in 1957, Zhang has witnessed China's changes since the reform and opening-up period began in 1978. He is now a press photographer and member of the China Photographers Association and has won several honors and awards in the field.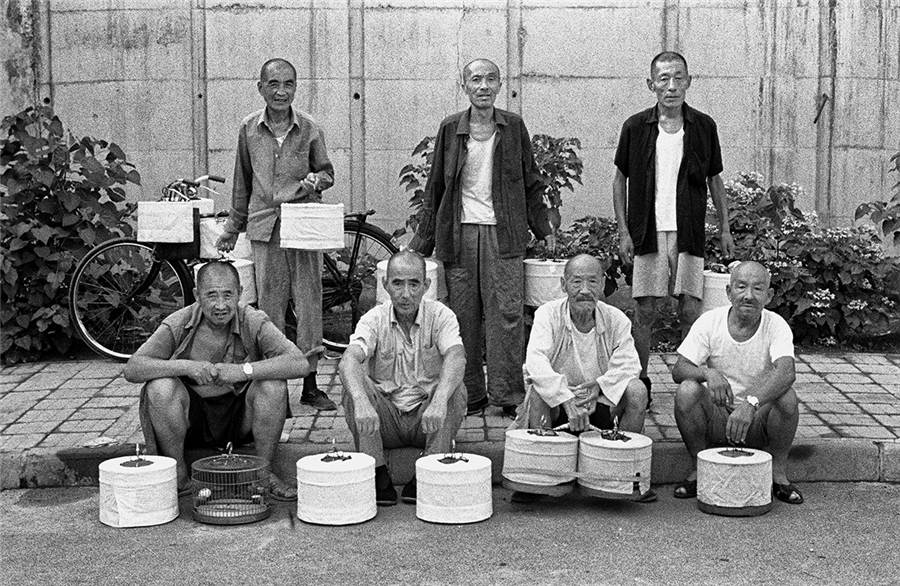 Playing with birds
Date: 1983
Location: Deshengmen
During the 1980s, there were many elderly men who preferred playing with birds. In the early morning, you could always see elderly people holding bird cages, strolling in the park or hutongs, on the road or under a tree. The hobby of playing with birds became popular during the Tang Dynasty (618-907) and reached heyday during the Qianlong period of the Qing Dynasty (1644-1911).
Now there are fewer Beijingers with birds, as senior citizens' leisure lives get richer and hutongs disappear from the city.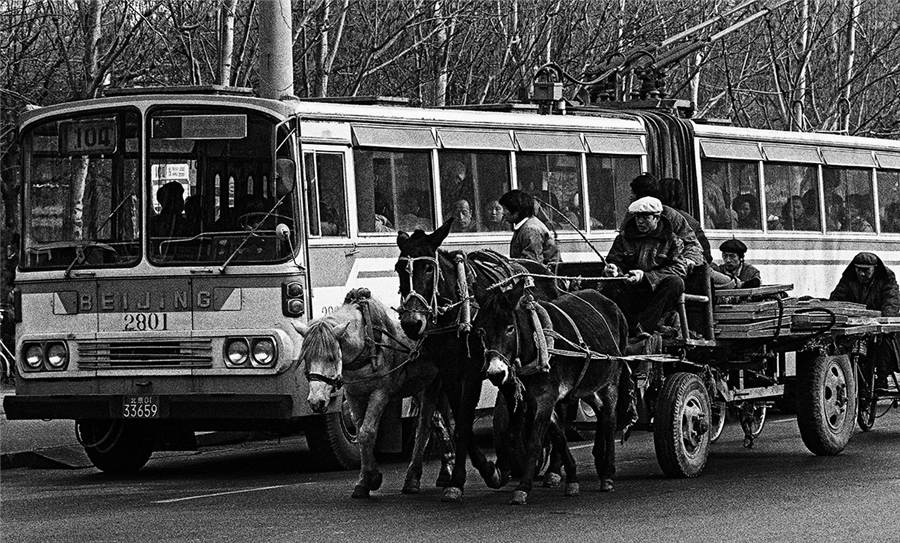 Carriage in the city
Date: 1989
Location: Hepingli
In the 1980s, the trolley bus and bus ran across empty roads, while carriages carrying goods or vegetables kept pace. During that time, traffic in Beijing was quite smooth, and three-wheeled motor vehicles, walking tractors and autotrucks could make use of the street. The most commonly seen transportation mode was the bicycle, with different brands, styles and functions.
Waiting backstage
Date: 1989
Location: A city park
In the photo, young women wait to perform at an aerobics dancing contest. They are wearing nylon aerobics outfits and sleeveless white knitting shirts, covered by their own coats due to the weather.
During the early 1980s, aerobics dancing became popular and people who participated in contests on behalf of enterprises and work units would be the envy of many.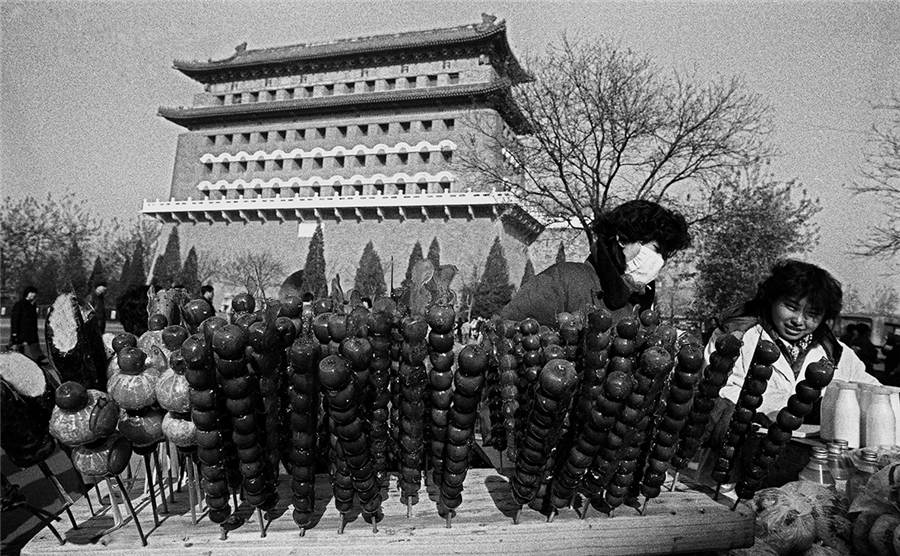 Sugar-coated haws on a stick
Date: 1988
Location: Qianmen Watchtower
Among well-known Beijing snacks, bingtanghulu (sugar-coated haws on a stick) is probably the most famous, a city trademark.
For children living in the 1980s in Beijing, when there were no McDonald's or KFCs, bingtanghulu was their favorite snack. Now, a bite of bingtanghulu brings reminiscence and nostalgia.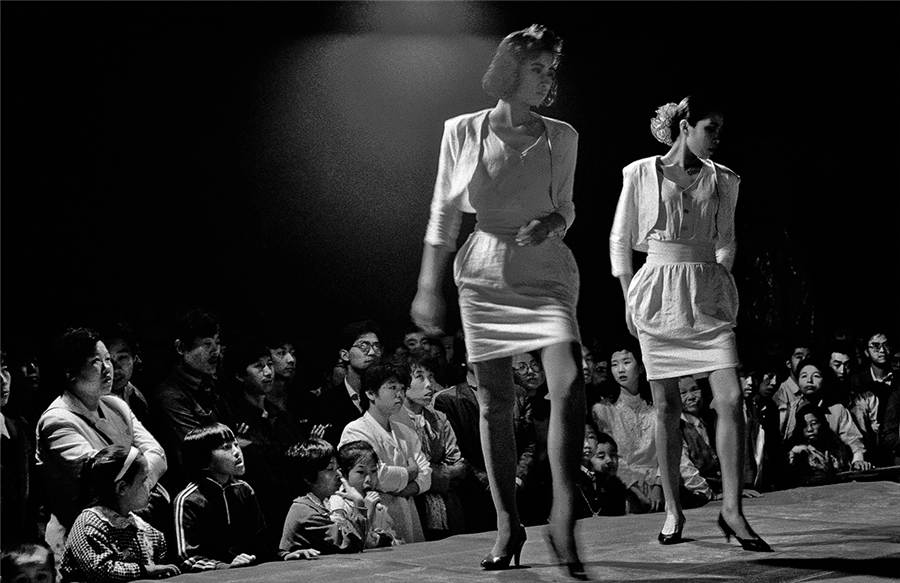 Fashion models
Date: 1980
Location: Beijing Working People's Cultural Palace
The photo shows a fashion show in a park during the 1980s in Beijing. There was no specialized catwalk and the lights on stage were simple. Though the models didn't seem very professional and their clothes were somewhat outdated, the fashion show was quite eye-catching during that time.
After reform and opening-up, people's clothes became more colorful and diverse.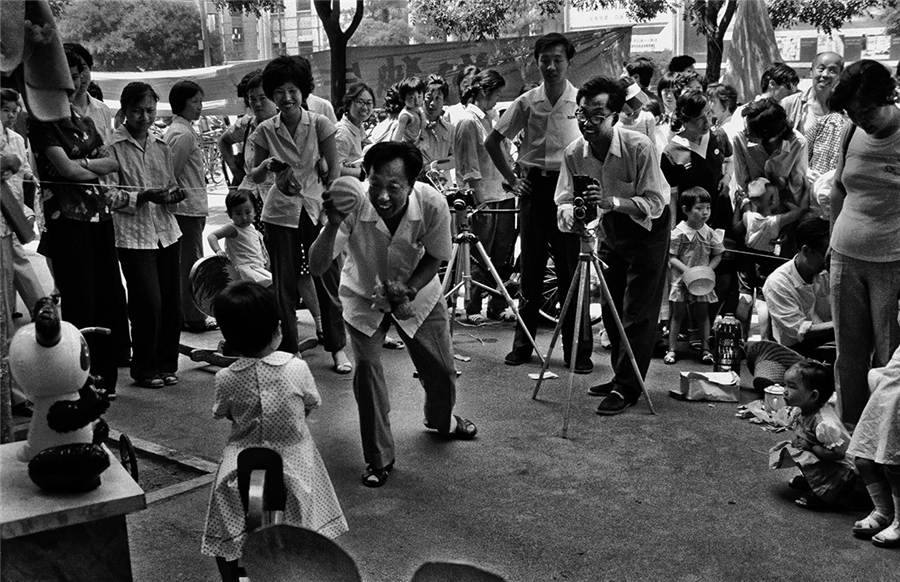 Take a photo
Date: 1987
Location: Beijing Children's Palace
It was sunny on Children's Day in 1987. At a corner of a park in Beijing, photographers gathered to take photos for children. Young mothers waited in line to get their children photographed. During that time, there were only black-and-white photos and most families didn't have their own cameras.
Now taking a photo has become incredibly easy. Almost everyone has a mobile phone that can take photos anytime, anywhere
Disco for the elderly
Date: 1987
Location: Ditan Park
Disco, originating in France in the 1960s, spread to China in the 1980s. With its strong rhythms and thrumming beats, disco was loved by young people. While the noisy environment of disco dance halls were not suitable for the elderly, some gathered in the park to dance to a more relaxed rhythm to stay fit.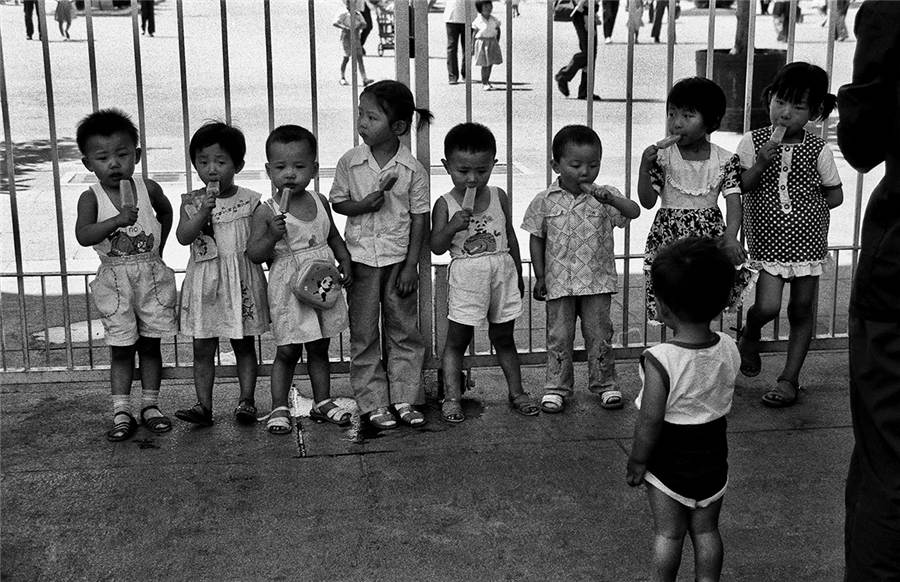 Festive ice pop
Date: 1985
Location: Beihai Park
In the summers of the 1980s, there were only a few choices of ice pops for children. The only available flavors were haw, red bean and chocolate. The ice pops were usually put into a box covered with thick quilts when selling. The photo shows several kids eating haw-flavored ice pops during Children's Day.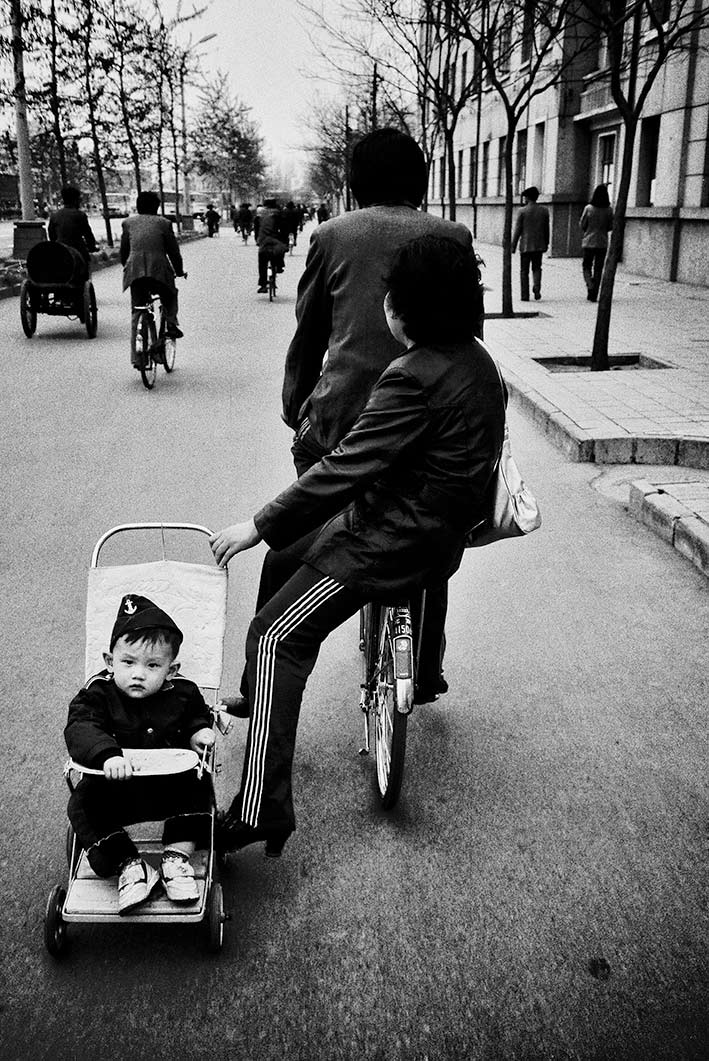 A family on Sunday
Date: 1983
Location: Xinjiekouwai in Xicheng district
In the 1980s, the working system in China stipulated employees could get only one day off each week. So Sunday was very important for citizens who usually spent the day doing chores, visiting families and friends or taking their children to play outside. The photo shows a family of three, with the mother and father on a bicycle and their child on a buggy pulled by the mother's hand.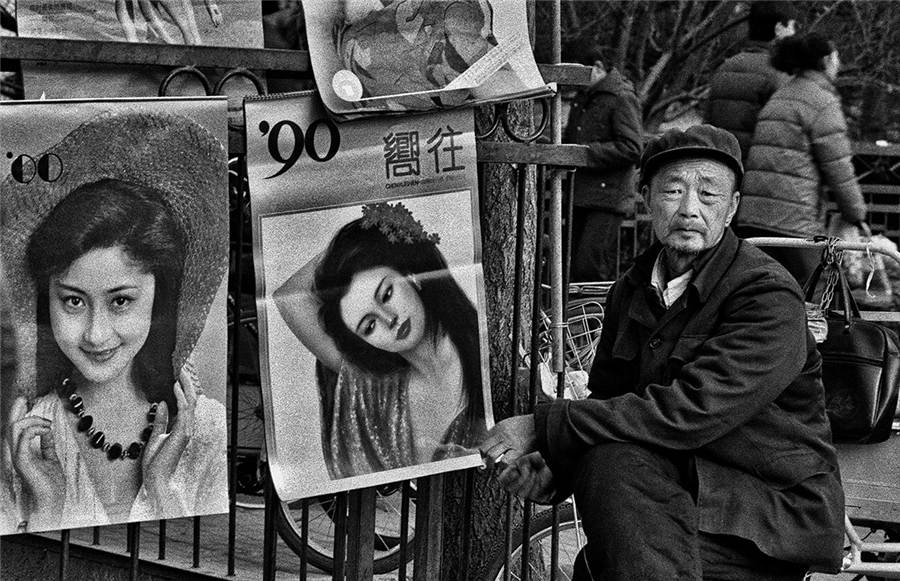 Selling wall calendar
Date: 1989
Location: In front of the Beijing Art Museum
Wall calendars were once all the rage across China in the 1980s. There were not many home decorations during that time, and a wall calendar could add color to the house, a good choice for a New Year gift. The pictures on the wall calendar were mostly about beauty and also painting, calligraphy or landscapes.
Now that calendars are available on mobile phones and computers, the wall calendar has almost disappeared from daily life.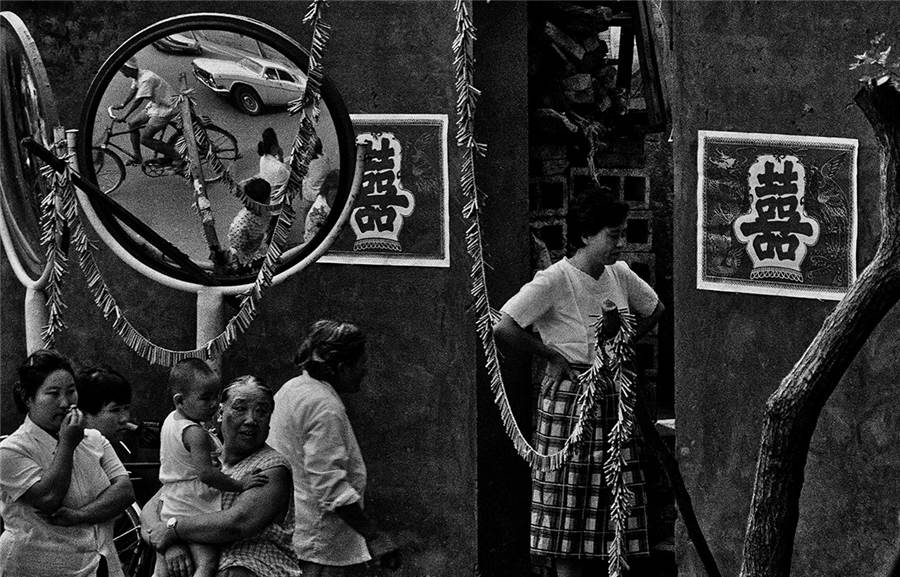 Frontage wedding
Date: 1984
Location: Xisi area
Wedding ceremonies were quite simple for common people in the 1980s, who mostly lived in crowded yards. Most didn't bother to select an auspicious day and just chose a Sunday, informing their relatives and friends in advance. The Chinese characters shuang xi (double happiness) would be pasted on the gate of the yard and guests would set off firecrackers, then a simple feast would be held in the yard to celebrate the wedding.