Many foreign writers were appalled by what they found on a first visit to Shanghai in the early 20th century. For some, it took a while to settle amidst the chaotic hustle and bustle and political upheaval. But, despite the culture shock, traces of their memorable experience can be found in their work.
The long-planned and mysterious visit of William Somerset Maugham in the 1920s, for instance, finds its way into "On a Chinese Screen," "The Painted Veil" and "East of Suez."
It is much easier to visit Shanghai and meet local writers today, not only due to its vastly improved transportation system but also because of the increasing number of cultural exchange programs, such as the Shanghai Writing Program, now in its 12th year.
Over the past 12 years the Shanghai Writers' Association has invited dozens of writers to enjoy a two-month stay in the city. When the program was first launched most guests had little knowledge of the burgeoning metropolis, just like their predecessors in the early 20th century. This is no longer the case.
Some of this year's guests have taught in China, learned the Chinese language and philosophy or had exchanges with Chinese writers in their home countries.
Shanghai Daily caught up with the program's authors after their two-month visit to get their impressions, concerns and what may evolve from the trip.
Gerard Woodward (United Kingdom)
When Gerard Woodward was shortlisted for the Man Booker Prize with "I'll Go to Bed at Noon," the second of a trilogy in 2004, he was interviewed while filling vending machines at Manchester University. He did many jobs before getting published and said such experiences really helped with his writing.
"I teach writing classes now, and many students have not worked one day," he said. "I think you need that kind of experience in society before locking yourself in a room to write."
His own novels are often said to be partially autobiographical, drawing heavily from his life. While family is at the center of all his novels, whether set in the 1920s or 1970s, the author prefers to use the present, with the protagonist living away from the family. He has been adding the finishing touches to it in Shanghai, in addition to his daily journal and drawings about the city.
"It is the first time I wrote in the present time which is more difficult, because you don't have enough distance to think about the present," he said.
Gabriele Di Fronzo (Italy)
For Italian writer Gabriele Di Fronzo, the two-month program was his second step into China. Di Fronzo was in Beijing last year for a similar but shorter program.
"The best way to get to know a city, wrote the German philosopher Walter Benjamin, is to lose oneself in it," he said.
"I lost myself on the first day I set foot in the city. And my amazement, for what I see and what I discover, will not diminish even on the last day of my stay. I believe that skepticism is one of the most graceful qualities of intelligence, therefore I did not let myself become dazzled by the impressions that the city gives me. However, for me Shanghai is an insatiable city."
So insatiable that he plans to set a new novel in Shanghai, of which he has already given names to the protagonists.
"Shanghai is a city where time goes by faster than anywhere else, and where time leaves footprints deeper than in other part of the world," he said. "I would like to write a story in which these traces are ghosts coming from the past and, at the same time, glimpses of the future."
The author just finished writing a third book before leaving for Shanghai two months ago, and is intrigued in "the stories of an individual, alone, who is in the presence of a private pain, looking for a solution to save him or her."
Yasser Abdelhafez (Egypt)
Yasser Abdelhafez keeps a collection of books on his desk that he keeps going back to read, among them, two Chinese books "The Book of the Way" and "The Art of War." He has always wanted to visit China as a result, and especially Shanghai, "getting to know one of the fastest growing cities in the world, and its writers."
"The Art of War" is also an inspiration for his novel "The Book of Safety," a tale of crime stories set in Orwellian Cairo. The author also heads the only weekly literary journal in Egypt and the Arab world, "Akhbar al-Adab."
"We have a lot of experiences in running a literary journal, but problems come from the economic situations, not only for us, but for the press in general," he said. "It's a tough time for all journalists in Egypt."
His next novel "Platitude" explores the problem of amnesia, with attempts to distinguish among the different types of illusion.
Isabelle Wery (Belgium)
In two and half years, Isabelle Wery has clocked up 50 trips to China, but this was her first in Shanghai. The actress and writer has been exploring the city and made many recordings in the streets.
Wery first came to China in 2017. Her previous invitational trips were mostly to Beijing, where she would give writing classes to French-speaking Chinese students.
"I was completely amazed by the high level of French speaking students. My second experimental book plays a lot with French language, and they asked me several interesting questions on the book that no one had ever asked before," she said, comparing it with her classes and book tours around the world.
The actress first started writing for the theater. It naturally led her to writing novels. She is intrigued by mixing literature, theater and music for experimental performances.
Millicent A.A.Graham (Jamaica)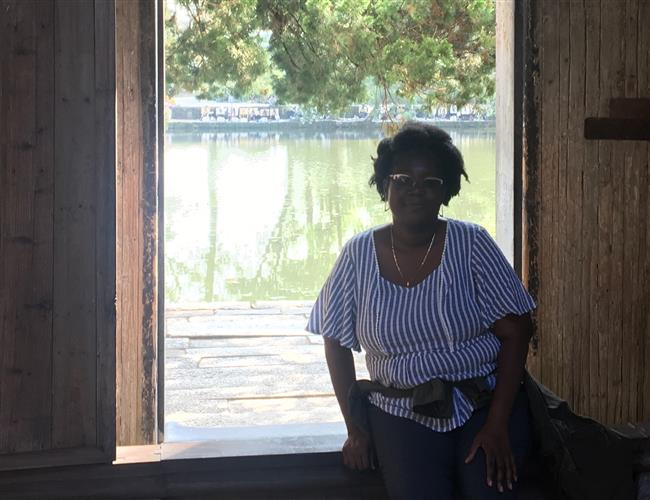 Before this first visit to China, Jamaican poet Millicent A.A. Graham knew little about the country. She has since been charmed by the city's many surprises — the curiosity of the people, the pride shown in every profession, the youthful spirit of the elderly and the choreography of scooters and bicycles.
"I hope my time in Jing'an Park will bring new poems from my observations of tai chi and from the sounds of the people singing, dancing and tapping," the writer said.
"The format of the Shanghai Writing Program is unique. It gives you more time to be led by inspiration. The emphasis is not on the writers as much as it is on the experience of the city and the sharing of ideas."
Back home, Graham is co-founder of an artist workshop, Drawing Room Project, which is aimed at supporting writers and increasing their contribution to Caribbean literature. She has found the project key in building a writing community in a country where it is rather challenging to be a writer.
"The literary industry in Jamaica is small and many writers make their home overseas so that they can pursue what they love in a vibrant industry," she said. "What makes us sustainable is the support that we give to each other as a community of writers. I'm grateful for the writers that continue to nurture me, especially the women writers in and from the Caribbean."
Noe Morales Munoz (Mexico)
Mexican playwright Noe Morales Munoz has traveled on many cultural exchange or literary programs in the US, UK and many South American countries, but it is the first time he had explored a place so geographically and culturally distant from his own.
So it felt intriguing when the small Hongcun Town in Anhui Province reminded him of the small Mexican town his parents are from.
"The experience of going out of Shanghai to a different kind of Chinese life and culture in a small town was indeed very interesting to me," he said.
"It's also probably the strangest experience on the trip. This small Chinese village almost feels like Mexico in a strange way — quiet and peaceful, as opposed to life in big cities. And then, when you think of it, Shanghai isn't so different in some ways to other big cities in the world — people rushing, looking at their cell phones … even though the culture and language is completely different."
The writer has seen his play "Hitler in my Heart" on many foreign stages, conveying the idea of how ordinary people get so obsessed with celebrities because social media creates the illusion of no distance. Like many of his other plays, the location is ambiguous as it could have happened anywhere in the world — as he has imagined it could be in Shanghai as well.
"After all, we are not so different," Munoz said.
Paulo Scott (Brazil)
Paulo Scott has written an alternative beginning to his new novel in Shanghai, incorporating the city as a scenario, though he still struggles between the original and the new.
"Rondonopolis," the detective novel he is working on, deals with the reality of the Brazilian west in the state of Mato Grosso. Like all of his works, it gives indigenous people a voice in the story. It is a voice that is rarely heard in Brazilian literature, and a voice that led the author to quit his successful law and academic career to become a full time writer.
"Looking back now, in perspective, I see I made the right decision," he said. "What struck me was a high rate of suicide among indigenous adolescents in Brazil in the early 2000s because there was (and still is) a lack of hope for indigenous youth, who feel unmotivated. They can't see a future in the non-indigenous world."
Dorota Maslowska (Poland)
Dorota Maslowska was surprised when she first learned that her bestselling debut novel "Snow White and Russian Red" was translated and published in China, and excited when she received an invitation to apply for the program.
"I was impressed by the bizarre beauty, chaos, daily fever of the streets. The colors, views, sounds, lights and energy," she told Shanghai Daily, adding that the city reminded her of a futuristic "Blade Runner."
"At the beginning of my stay, I couldn't sleep just out of excitement," she said.
Some critics describe her debut novel a Polish "Trainspotting." Her mix of vulgar and colloquial street dialogue with poetic language also produced several debates between supporters and those critical of it.
The novel, published when she was 19, also shot the author to stardom in Poland, and was soon translated into many languages.
The sudden media exposure and fame made its way into her second novel "The Queen's Peacock," a bitter satire on the media-world.
"It's a part of my personal story. It was extremely difficult and disappointing to see the media machine from the inside," she said.
"It's a bit outdated now. The media is much worse these days. It lies even more than it did in 2004."
Rewat Panpipat (Thailand)
Rewat Panpipat is famed for his depictions of serene nature in Thailand, which the poet has learned to appreciate since he was born in a rural farming family surrounded by nature.
"These environments have made me part of nature," he said, nostalgic for the fields, streams and woodlands from his rural homeland since he has been based in Bangkok for a decade.
"Nowadays the yearning for nature has multiplied because the old way of life has been gradually lost to modern trade farming and non-sustainable developments," he said.
But the nature-loving poet has found Shanghai surprisingly peaceful, orderly and comfortable, rather different from what he expected as a grand cosmopolitan.
"The antiquity and modernity along with the inner and outer traditions are a perfect mixture, which forms the charm of Shanghai," he said.
Elena Tulusheva (Russia)
Russian writer Elena Tulusheva draws inspiration from her work in a rehabilitation center, where the former medical student worked with drug addicted teenagers.
"People that use drugs usually have a huge traumatic experience," she said. "There is always deep problems at least with misunderstanding, loneliness, not listening to the child's need, and most of them had a really dramatic childhood."
All the tragic stories led her to feel anger toward adults, and she wanted to write stories to show that "children are not growing up by themselves."
"It's us, adults, who grow them up," she said. "Adults create video games and then complain on this addiction. Adults hit their kids and then complain on aggressive teenagers who carry guns to school. We need to be more caring and attentive, and change ourselves if we want a better future for our kids."
Prior to this trip, Tulusheva had visited Beijing and Shanghai once before, but the writing program offered her more time and space to appreciate the city this time.
"I can see Shanghai not like a traveler who just came for a week, but like a resident who lives here," she said.
Viola Di Grado (Italy)
In her novel "70% Acrylic 30% Wool," Italian author Viola Di Grado has invented her own ideograms based on her 21-year-old narrator/protagonist in the book, who gained a new perspective of the world after learning Chinese.
It is reflective of her own experience — a lover of learning languages including Chinese with a Master's degree in Eastern philosophy.
The writing program in Shanghai is a return to the country, 10 years after learning the Chinese language in the city of Qingdao in Shandong Province.
"Like the character, I gained new perspective of language, which is very important for what's been my development as a novelist," she said. "That is why I recently started to teach creative writing classes with a new method that I created based on Chinese language and philosophy."
She considers learning different languages key to building a neutral narrative space where "the cultural approximation imposed by living inside one's own language reduces."
"As a result, you get closer to the nature of things, or what the Buddhist called 'Tathata.' In the case of ideographic languages, like Chinese, this is even more the case, as the sign does not convey a dull phonetic club but an image, which has a more intimate relationship to reality," Grado said.