New York-based artist Daniel Arsham is hosting his first solo exhibition "Perpetual Present" at the HOW Art Museum Shanghai, where he plans to draw his audience into an approachable conversation about the abstract concept of time.
The four-month show, specifically conceived for the space, is iconic to the artist as he realizes the unique interpretations of time through architecture and body. Using symbols and elements of modern culture, Arsham intends to demonstrate the non-linearity of time, and journey through the present to the future.
"All of this leaves the audience at a strange temporal node: When and where are we?" suggested curator Fu Liaoliao.
The first art work is a two-story-tall sculpture "The Bunny," along with a set of three oversized bronze sculptures, "Bronze Characters," reminiscent of "Goofy" from Disney.
With patches and joints broken or damaged, Arsham has distorted and transformed classic cartoon characters familiar to all into bitter sweet memories of the past.
There is also a room surrounded by writing, with chalk piled in the center and corners. If you look a bit closer, the pieces of chalk are compiled into objects representative of technology, sports culture and popular media. The viewer is encouraged to use the chalk to write on the walls, while in the process, the former shapes of the chalk are destroyed.
By directly engaging with the art, Arsham aims to show the simultaneity of creation and destruction.
Courtesy of HOW Art Museum
Courtesy of HOW Art Museum
"Excavation Site 212" brings interaction with the future to life. An entire excavation site was created to walk through and present-day objects, such as basketballs, radios, guitars, are being evacuated.
In the back, there is a laboratory with actors as scientists recreating a scene of analyzing archaeological objects. Visitors may touch the objects through gloves to heighten the sensory element, providing an experience of time travel.
Cleverly filling the space of the museum, "Large Knot" and "Excavated Walls" are Arsham's fascinations with architecture and the human body. Standing near both installations, the audience appears small and insignificant.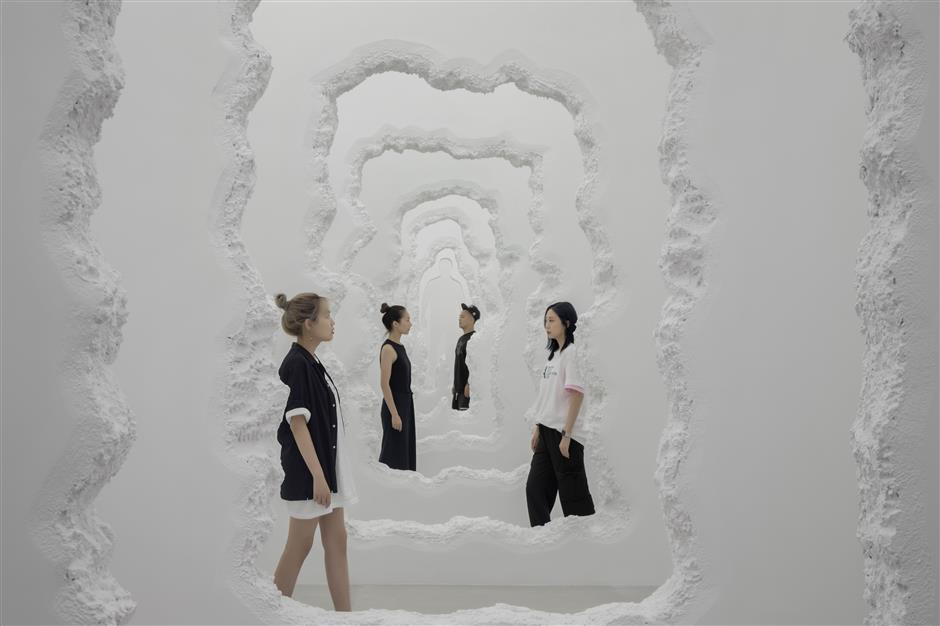 Courtesy of HOW Art Museum
Exhibition info
Date: Through October 24 (closed on Mondays); Tuesday-Friday 1pm-10pm; Saturday-Sunday, 10am-10pm
Venue: HOW Art Museum
Address: No. 1, 2277 Zuchongzhi Rd