For over a year, one of China's most esteemed contemporary art museums looked like it would close. Founded by Belgian art collectors Guy and Myriam Ullens in 2007, the 
Ullens Center for Contemporary Art
 (UCCA) had been operating on a budget that was dwindling each year. In June 2016, the Ullenses decided to take the unconventional step of trying to sell the museum, but a buyer was not quickly forthcoming.
"We were on the brink of death for about 16 months," said Phil Tinari, director and CEO of UCCA. "And then a group of supporters materialized at the eleventh hour."
The patrons Tinari eventually brought on board formed a foundation that would not only keep UCCA's lights on, the climate controlled, and the walls freshly plastered and painted, but also work to expand the museum's footprint and profile. Less than a year later, not only is UCCA's main location in Beijing's 798 art district undergoing major refurbishment, the museum has also expanded with a new location in Hebei province's seaside Beidaihe District.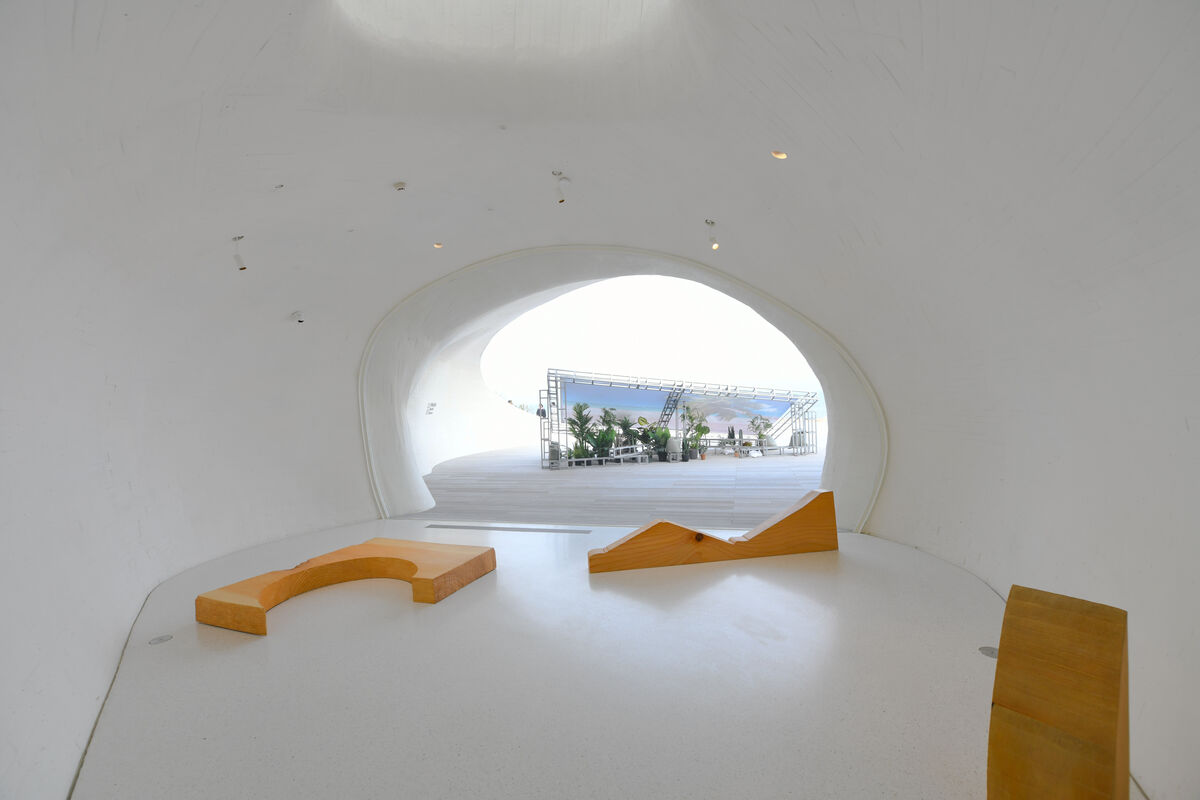 Installation view of Zhuang Hui & Dan'er, Leftover Material from the Carpenters, 2009. Courtesy of Ullens Center for Contemporary Art, UCCA.
Designed by Open Architects's Li Hu, UCCA Dune (UCCA 沙丘) is a cluster of rounded rooms buried in a manmade hill by the beach. The new museum's interior has a retro-futuristic look, like something built both long ago and far, far away—it wouldn't look out of place on Tatooine. Skylights draw shafts of illumination into the cool, exhibition caves. There's also a spiral staircase that takes you to a tower, like climbing a lighthouse.
But a model of the structure, when viewed from above and without the mound of dirt that sits on top, reveals a chain of rooms that looks more like a diagram of the human digestive system. The entrance is a long curved esophagus that brings you to organ-like rooms that ultimately deposit you on the beach, facing the Bohai Sea. Tinari said that he'd been following Li Hu's work for many years, and that they had previously collaborated on UCCA's 2017 show "The New Normal: China, Art, and 2017," which featured 23 young artists and addressed China's economic slowdown; similarly to UCCA Dune, the show was comprised of many small pavilions, each of which housed a single artist's work.
Installation view of Zhuang Hui & Dan'er, Leftover Material from the Carpenters, 2009. Courtesy of Ullens Center for Contemporary Art, UCCA.
If "The New Normal" was something of an inside joke about UCCA's funding troubles, the inaugural exhibition at UCCA Dune also plays, in a way, with the contradictions between the museum's natural setting and the fact that it's also part of a massive real estate development. Entitled "After Nature" (自然后), the show suggests that human activity—including the cranes, coal stacks, and concrete mixers so ubiquitous in China—is now inseparable, climatically, and even geologically, from nature.
"The idea is that we're past the moment of nature as an abstract concept that's distinct from culture or urban life," Tinari said. "It's omnipresent now, in that Anthropocene interventions have rendered that romantic view of sublime nature irrelevant."
The development that UCCA Dune is a part of, the Aranya Gold Coast Community, has similarly engineered "naturalness" between its apartment buildings, hotels, and Tuscan-style villas. (The only birds I saw there, for instance, were sculptures mounted to beautify the grounds.) That's a paradox that the show, which features works by nine Chinese artists born between 1942 and 1988, confronts head-on.
Liu Yujia, Wave, 2017. Courtesy of Tang Contemporary Art.
, for instance, made an installation called Destination (2018), which comprises a capsized billboard, complete with scaffolding, depicting a tropical beach and palm trees. It's a denaturalized portrait of nature.
are showing a work from their 2009 "Leftover Material from the Carpenters" series: copper sculptures meticulously painted with acrylics to resemble builders' wooden offcuts, shifting attention to the unintended consequences of production, a move that's as important environmentally as it is aesthetically.
Property developers play an outsized role in Chinese contemporary art, with the OCT Contemporary Art Terminal (OCAT) responsible for institutions in Shenzhen, Shanghai, and Xi'an; the 
Rockbund Art Museum
 part of a property development on The Bund; and the K11 art spaces in Hong Kong, Shanghai, and Shenyang sponsored by Hong Kong 
shopping mall magnate Adrian Cheng
.
The UCCA Foundation includes over 50 patrons, and their business interests extend far beyond real estate—to education, media, and elsewhere. For UCCA Dune specifically, though, Aranya is the key stakeholder. It has provided the building and will pay the museum's operating costs, but will look entirely to UCCA for the programming.
"After Nature" Exhibition, Courtesy of Ullens Center for Contemporary Art, UCCA.
In fact, Li Hu's building was already designed and under construction before UCCA became involved. "I think it was exactly the point where [Aranya boss Ma Yi] was starting to realize 'Wow, this thing's going to be finished and we're gonna have to put something in it, and we spent a couple of months negotiating a model,'" Tinari said. "I'd say it gives us artistic control, but he made us take artistic control."
UCCA has agreed to hold at least two exhibitions per year at UCCA Dune, which will be curated by the existing team in Beijing.
Ma said that building a museum wasn't a condition of winning the rights to develop the land, nor did it provide some kind of tax break. "There's no help from the government," he said. "But they have the same hope as me, to create a happy community."
He said that promoting the kind of emotional well-being that art institutions can foster through exhibitions, performances, and lectures was a key consideration for building this new community. The aim: "[To] make people feel like they're in heaven, comfortable," Ma said.
Exterior view of the UCCA Dune. Courtesy of Ullens Center for Contemporary Art, UCCA.
The benefits for residents of Aranya are evident, but servicing the wealthy residents of a gated community isn't entirely in keeping with UCCA's mission statement to bring the experience of art to different kinds of people. Tinari said making sure UCCA could still service that mission in this new location, just like it does in Beijing, was a key consideration in the negotiations around UCCA Dune.
"That was a big concern of ours going in," he said, "but as a UCCA member—which is a very nominal fee—or with a ticket to show on your phone, you can get through the gate and come here."
And the beachside locale does draw a diverse crowd, especially in the summer, when hoards of holidaymakers come over from Tianjin and Beijing.
"In a way, I think of it almost like a beach town at the Jersey Shore," Tinari said, noting one key difference: While many such seaside enclaves have had the opportunity to develop organically over many decades, China's rapid growth has brought about a more centrally orchestrated approach. So, Tinari said, "in China, that [beach town] won't take the shape of an organic community; it will instead take the shape of a predetermined real estate development"—a predetermined real estate development with an outpost of the country's preeminent museum at its heart.