The first edition of Shanghai's 
Art021
 in 2013 was scrappy—just 29 galleries filling up a space in the Rockbund Complex. But it proved its art market mettle quickly, and by 2016, fellow Shanghai art fair 
West Bund Art & Design
 moved from September to November so that both events could happen simultaneously. Art021 takes a different approach to the internationally-focused West Bund, having committed to reserving at least half of its booths each year for Chinese galleries. And it has become increasingly important to rising Chinese collectors who have started buying art as a lifestyle.
"When we started it, November was nothing—there wasn't an art thing then," said David Chau, who co-founded Art021 with PR maven Bao Yifeng and collector Kelly Ying. "People forget that we started before West Bund, and people forget that West Bund started in September and had to move to November. You know, there's a reason for that."
Both fairs have grown rapidly—a testament to the market power in mainland China—and attract international galleries aiming to sell to the growing number of collectors in Shanghai and others who travel here from across China. West Bund jumped from 39 to 87 galleries participating in its main section this year. The sixth edition of Art021, which opened to VIPs Thursday afternoon, hosts 103 galleries in three wings of the Shanghai Exhibition Center. But, while West Bund is part of a larger, government-funded initiative to turn a previously industrial stretch of the Huangpu Riverfront into a cultural epicenter, Chau said the privately owned Art021 has been able to become a power center on its own terms.
"We've looked at how West Bund is becoming a Basel kind of fair, whereas if we were trying to follow them, or even beat them, we'd be dead by now," Chau said. "The reason we're able to succeed is we are just not really following the art world's rules. We never set ourselves to be a Basel or a Frieze."
The 34-year-old Chau, who as a 21-year-old investment banker set up a $32 million art investment fund, said instead of fitting the mold of what an art fair should be, he's focused on courting the newly wealthy would-be collectors in a country 
where a new billionaire is minted every two days
. It's the major Chinese collectors who buy at Art Basel in Hong Kong and at evening sales held in Shanghai, Hong Kong, and Beijing, that are currently driving the country's rise in art-world clout—and its ability to edge out the United Kingdom to be the world's second-biggest art market, after the United States, according to Clare McAndrew's 
The Art Market | 2018
. While many of those collectors buy art at Art021 too, Chau said his focus is on finding newly wealthy, culture hungry Chinese who haven't collected yet, and turning them on to buying.
"Out of 1.4 billion people I think this is a big enough market that our mission should be to cultivate a million people rather than just cultivating the art world," Chau said. In other words, Chau wants to expand the size of the pie, not just take a slice from it.
This is what he pitches to potential exhibitors: there is money here and there are people who want to spend it on art. It's his job to deliver them on the first week of November.
"It's about selling, and getting people to come back," Chau.
Judging by the scene at Thursday's VIP preview, they're clearly doing something right. The aisles thronged with fashionable young collectors who milled about in the two halls upstairs before spilling down into the cavernous, Soviet-style structure's main foyer, where quite a spectrum of offerings was on display. On one end, 
Gagosian
 was presenting the wildly popular
between the artist
and Louis Vuitton men's creative director
. Drake is a known collector of the bombastic work and fairgoers were audibly yelling at passersby to move so they could get pictures. At the other end of the hall, Galerie Thaddaeus Ropac had mounted a solo booth of serene portraits by the nonagenarian New Yorker
.
True to Chau's word, there were plenty of deals taking place in the opening hours—contra the general wisdom that Chinese collectors tend to wait to transact until the final day. 
Hauser & Wirth
 sold
's The Garden(2017) for $385,000 to a Chinese museum,
's Untitled Anxious Collage (2017) to a collection in Hong Kong, and
's Work No. 2316 COCONUTS (2015) for $210,000 to a collection in China. The gallery also staged a show of work by
at Qiao Space, next to West Bund, and sold his Babel (2013) for $325,000 and Flowers in a Vase with Jewels, Coins, and Shells (Milan) (2018) for $150,000—both to Chinese collectors. At David Zwirner,
's bank of (2017-18) sold for $300,000; a small
sculpture sold for $220,000; and an untitled 2011–12 encaustic by
, who opened a show at Shanghai's Rockbund Art Museum on Thursday night, sold for $250,000.
Installation view of David Zwirner's booth at Art021, 2018. Courtesy of David Zwirner.
At 
Pace
, which was participating in Art021 for the first time (they've done West Bund since 2015), a suite of three
iPad paintings sold for $26,000 each, as well as several works by Chinese artists in their program like
and
.
"It's our first year doing the fair alongside West Bund, and we brought more work by Chinese artists here because there's a different sort of purpose here," said Youngjoo Lee, the director of the mega-gallery's outpost in Seoul. "At West Bund it's more international, and here, it's more local Shanghai clients."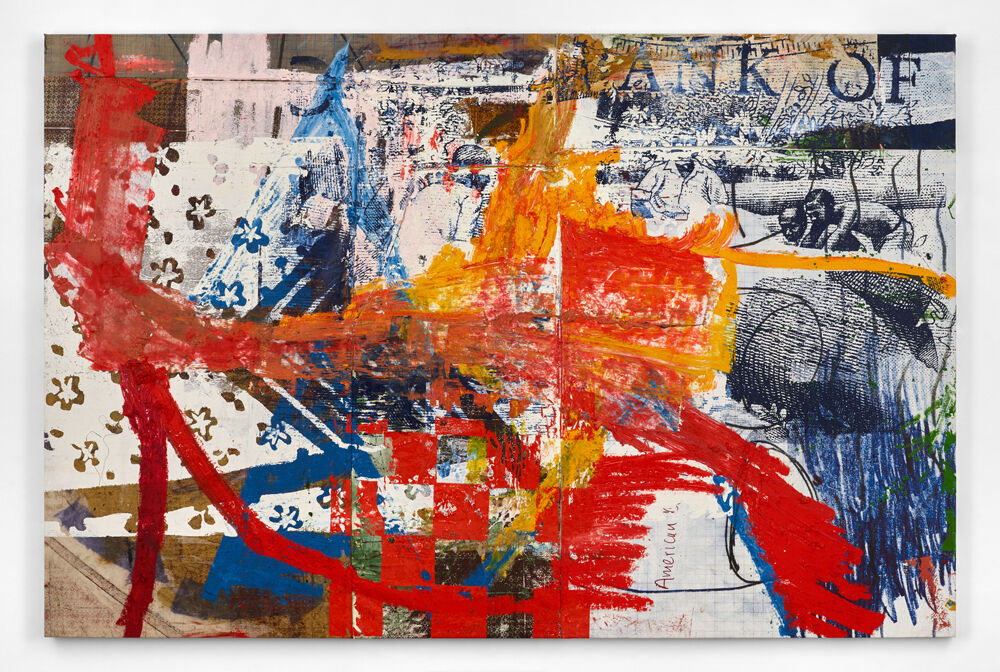 Galleria Continua
 is attuned to the buying habits of the Chinese markets, having opened a gallery in Beijing in 2005 (they also have outposts in Havana, Cuba, San Gimignano, Italy, and Les Moulins, France). Federica Beltrame, a director at Galleria Continua's space in the Chinese capital, said that they had a lot of requests from local clients for work by
—et voila, an Antony Gormley solo booth. Three works were on reserve a few hours into the fair, at €350,000 for large sculptures and €175,000 for small ones. Beltrame added that, while they've done fairs in Beijing to support the local gallery scene, she doesn't see it them taking off in the way Art021 and West Bund have in Shanghai, turning the city into a real destination for Asian buyers every November.
"I feel that Shanghai has a special energy," she said. "Beijing fairs are a million years behind. Here, everything is just vibrating."
Contributing to that energy this year is a new sector at Art021, Detour, where Cesar Garcia, who is the director of The Mistake Room in Los Angeles, hand-picked five galleries, in addition to his own, that each paid a discounted booth price. A slowing Chinese economy and volatile capital markets in the country have also, perhaps counterintuitively, buoyed the art trade, said Sophia Wang, assistant to the director at Beijing's 
Pifo Gallery
who came to the gallery this year from Christie's.
"People here are seeing art more as an investment," she said, adding that this tendency increases in periods of volatility such as the one caused by the current trade war between Donald Trump and Xi Jinping. Wang said that even with the Office of the United States Trade Representative having
announced
 that Chinese-made art and antiquities would not be included on the list of goods included in the tariffs, the conflict still poses issues.
"It's building a wall, a barrier," Wang said of the back-and-forth taxation between the two countries. "It's not just about the taxes, it affects so many things."
Pifo focused on works by European and Asian artists at Art021. And on opening day, they sold an untitled
painting for CNY140,000 (roughly $20,000), and two works by the Chinese artist
, one for CNY70,000 (roughly $10,000) and another for CNY80,000 (roughly $11,500).
Trade war or not, Art021 continues to serve as a prime opportunity for American galleries to test the market waters in mainland China without the significant investment and business challenges that hiring staff or opening a physical space here can generate. 
Gavin Brown's Enterprise
 did the fair for the first time this year and sold work by
and
. It was also Kasmin's first time at Art021. The New York gallery sold
's cheeky painting Salvator Mundi (2018), a play on the
painting that sold for $450 million at Christie's a year ago, but with a fluffy dog holding the gazing ball instead of Jesus Christ.
Kasmin had a bit of fun with the presentation, as two security guards stood by the painting protecting the canvas as if it were truly the Leonardo and not a cute puppy-fied homage. And while it didn't command a price tag nearing half a billion, it did sell for a very respectable $350,000.
"We're only three hours into the fair and the activity has been overwhelming," said director Eric Gleason. As if on cue, a woman approached him, pointed and yelled "Sit down!"—she wanted to get an unobstructed picture of the six-foot-tall
"LOVE" sculpture that served as the booth's centerpiece.
"We're thrilled to be here," Gleason said. His only regret about Art021: "I wished we had came earlier."